Disclosure: This post is sponsored by Mean Green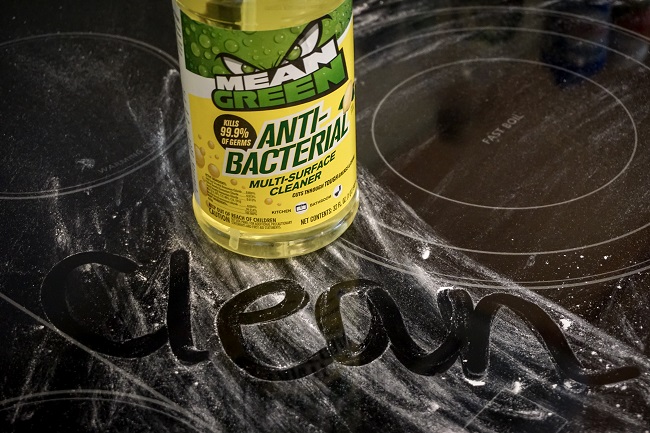 Mean Green Antibacterial Multi-Surface Cleaner is one of the most versatile products I have ever had the chance to review. I have used this product to keep the kitchen clean, living room, dining room, the bathroom, and have even used it to clean surfaces on the back patio. No matter where I use Mean Green Antibacterial Multi-Surface Cleaner it has always cut through the grease and grime. This stuff also kills up to 99.9% of germs and even deodorizes! If you are looking for a product that will make tough spring cleaning jobs a breeze, look no more.
As pet owners, we have to be extra vigilant in order to maintain a healthy environment in and around our home. In order to keep the place clean, sanitary, and odor free we need a product with serious cleaning power. Whether I am wiping up dog toys, "accidents," or cleaning out the litter box I can always count on Mean Green to get the job done. This product not only keeps the germs away it also keeps our house from smelling like a kennel. After a few sprays of antibacterial cleaner, just give the product a few minutes for it to work its magic and then wipe the evil away. It's as easy as that.
Weekends usually wreak havoc on our kitchen. We do a lot of cooking. Sunday's breakfast menu consisted of bacon, sausage, biscuits, gravy, and eggs. After filling up on a glorious meal like that the last place you want to be is in the kitchen cleaning up but unfortunately, that is part of the game. What I like most about Mean Green Antibacterial Multi-Surface Cleaner is it cuts our post-meal cleanup time in half giving me more time to do more important things like watch TV.
Although I already had a go-to product when it comes to cleaning the bathroom, I decided to give Mean green a shot in there too. Believe it or not, this stuff works just as good as the leading bathroom cleaner. The best part is it doesn't have that harsh smell I have been accustomed to. I have used Mean Green in virtually every part of our house. When it comes to cleaning the surfaces our family touches every day, Mean Green Antibacterial Multi-Surface Cleaner is our new go to product.