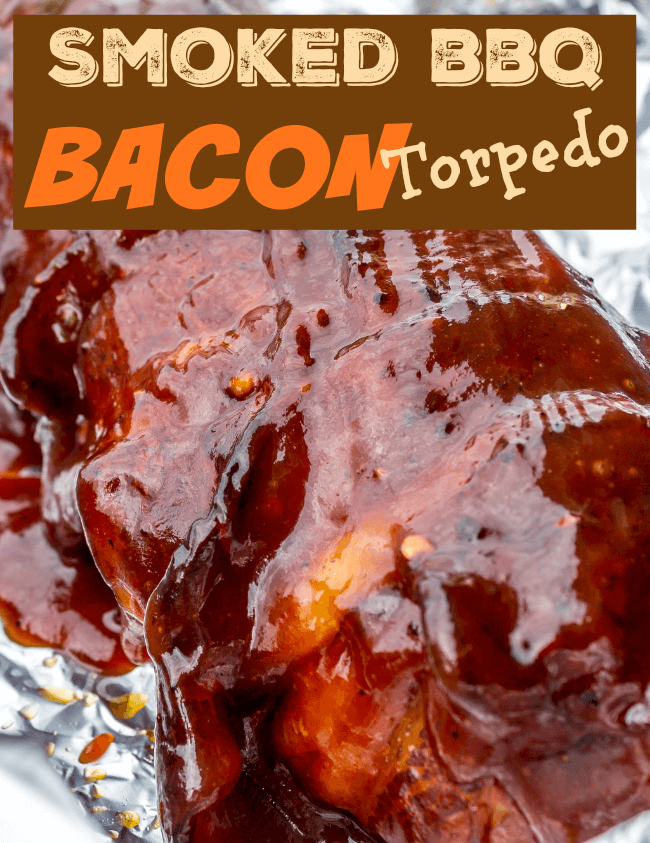 It has been three years and our Masterbuilt Electric Smoker is still cranking out awesome eats. When our friends find out I'm making my famous Smoked BBQ Bacon Torpedo, they cant wait to put it in their mouths! This recipe is just too good to keep to myself so here it is:
Smoked BBQ Bacon Torpedo Recipe
Ingredients
2 - 3 lbs. thick cut bacon
2 lbs. Italian sausage
1 cup barbecue sauce
1/4 cup barbecue seasoning rub
2 cups Cherry Cola
Instructions
To get started the first thing to do is to fry up about a pound of bacon until really crispy. We usually throw a rack inside a cookie sheet and bake it in the oven at 350 for about 30 – 40 minutes. Crumble up bacon and set aside.
Now it's time to create your bacon weave. We found that 6 pieces x 6 pieces works well. On a foil lined pan lay out your bacon to create a very tight weave ensuring there are no wholes and that all pieces are touching. Add pieces if necessary to create a square shaped weave.
Pre-heat your smoker to a nice 225° F. Fill pan with water and 2 cups of Cherry Cola.
Once weave is complete sprinkle on your BBQ rub.
Next, take your Italian sausage and put it evenly on top of your bacon weave making sure to create an even layer across the entire square. We have used both mild and hot Italian sausage and both are equally delicious.
Once sausage is spread evenly brush on a thin layer of BBQ sauce. Now it's time to add some bacon! Take the crispy fried bacon and add it to the top of your sausage layer and sprinkle with more BBQ rub.
Now comes the hard part. With a spatula slowly separate your sausage mixture from your bacon weave by rolling your sausage into a roll (see photo at bottom of page). Be sure to keep the sausage tightly rolled and once complete pinch together your ends so that you have one big roll of sausage tightly compressed.
You're ready now to complete your bacon torpedo! Keeping your bacon weave tight slowly roll the sausage forward with the bacon weave on the outside. Make sure seam stays at the bottom.
Sprinkle your barbecue seasoning rub on the outside of the bacon weave and place it directly on the rack of your smoker. Add your favorite wood chips (we used Jack Daniels chips) to create a nice cloud of smoke.
After one hour of cooking carefully place foil over your bacon torpedo and continue cooking until the internal temperature is 165° F. You can estimate one hour of cooking for each inch of thickness, but it truly depends on your smoker. We do not recommend adding chips after the initial smoking as it can overpower the bacon torpedo (that's also why we cover it with foil until the last 10 minutes).
For the final 10 minutes coat well with basting brush using the remaining BBQ sauce and return to smoker uncovered.
Enjoy your Smoked BBQ Bacon Torpedo and a cold glass of beer!
https://www.liveandletblog.com/smoked-bbq-bacon-torpedo-recipe
Courtesy of Live and Let Blog - All rights reserved.
---
Adapted from the original Bacon Addicts, Bacon Explosion.
Pin Me!