Disclosure: This is a sponsored post written for The Recreational Boating and Fishing Foundation and Walt Disney World.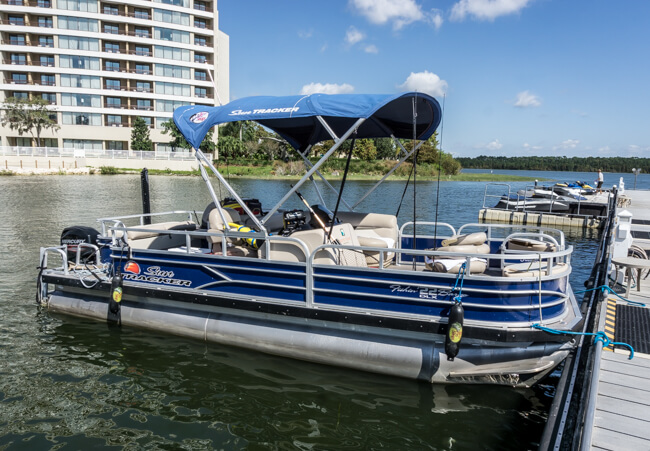 Until recently, I've never thought of Walt Disney World as a place to go fishing. I never even knew it was an option. I went for family fun, theme parks, roller coasters, food, entertainment, and world-class resorts. When my wife told me we were invited to a media event at Walt Disney World sponsored by The Recreational Boating & Fishing Foundation (RBFF) for the Take me Fishing™ and Vamos A Pescar™ campaigns, I was instantly hooked. I knew we were in for a treat. Our agenda included a guided bass fishing excursion, fireworks boat cruise, and SeaRaycer adventure! I could hardly wait!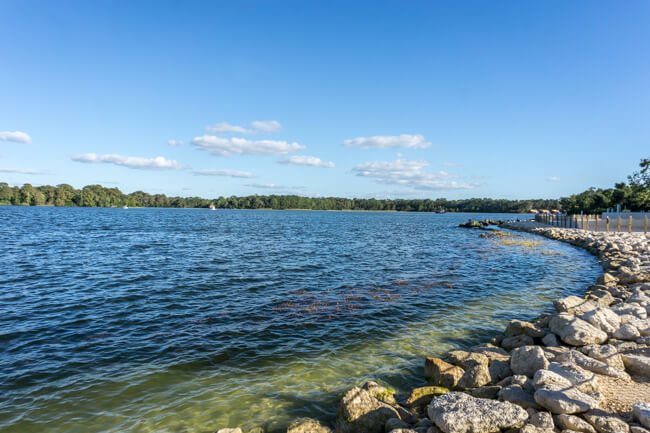 After checking in at Disney's Contemporary Resort, we gathered in a conference room for a quick presentation. We learned about RBFF and met with the CEO. RBFF's mission is to get more people fishing and boating, which in turn, helps protect and restore the nation's aquatic natural resources. They help boaters and anglers of all ages and experience levels learn, plan and equip for a day on the water. RBFF also works with various government agencies to promote conservation. Their websites TakeMeFishing.org and VamosAPescar.org are excellent resources. They feature how-to videos, info on getting your fishing license and boat registration, and an interactive map that will help you find fishing spots no matter what state you're in.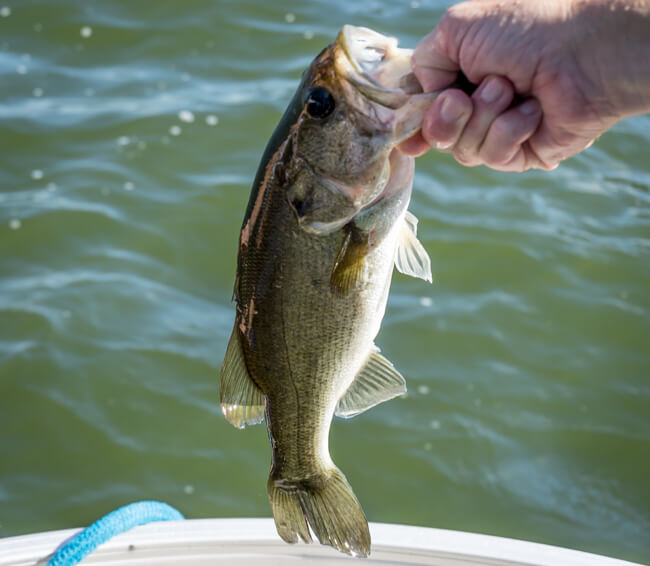 The fireworks boat cruise was amazing! After a safety briefing and fitting all the kids with life jackets, we set out on Bay Lake to explore and learn about Disney's waterways. We learned that when Magic Kingdom was being built back in the 60's, Bay Lake and Seven Seas Lagoon were stocked with more than 70,000 bass fingerlings. Because of that, guests usually catch an average of 10 fish on a fishing excursion. That's a lot of fish!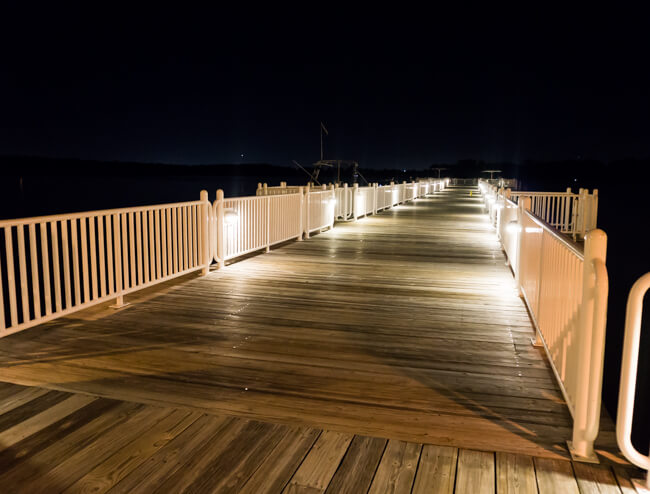 Exploring Disney's waterways on a pontoon boat, at night, is an amazing experience. Before the fireworks show, we watched the Electric Water Pageant. Being on the water gave us an excellent vantage point. This show takes place every evening (depending on the weather) and is one of Walt Disney World's longest running shows. It has been running since opening year and hasn't changed much at all. Getting to enjoy it so close was a very special treat.
We saw the fireworks show from Seven Seas Lagoon. It was Halloween themed and incredible. I've never seen Disney's fireworks from the water and thought it was amazing. As the fireworks exploded in the air, music was also being piped through the speakers of the boat. It was like being in the park but better! The camera on my phone does it no justice at all. The way the fireworks reflect off the water is spectacular and something I hope to never forget. What a great night!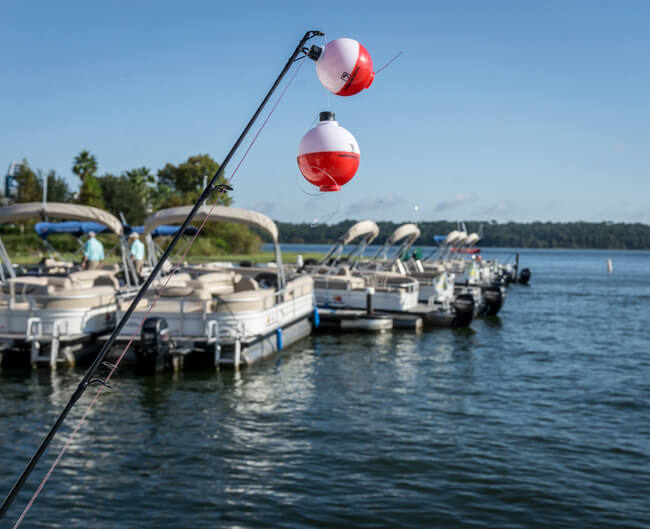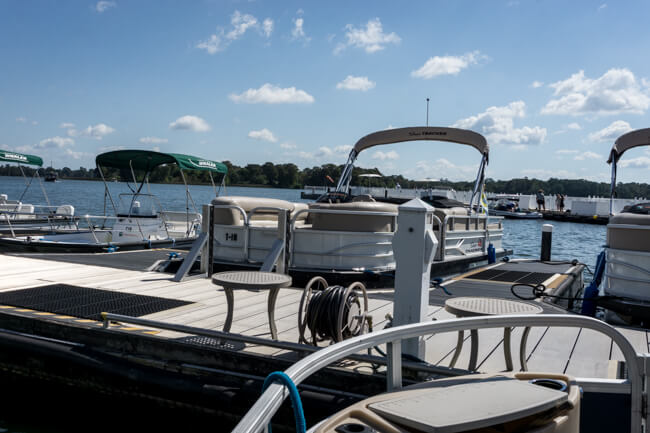 Fishing began bright and early. We met at the Contemporary Resort Marina, received our safety instructions, the kids donned their life jackets, and we were off. After a short ride across the lake, we anchored and started baiting hooks with Shiners. The bass out here absolutely love them. My son cast first and within seconds caught his first fish. After that, he was reeling them in left and right. It was incredible. My son was catching some good-sized bass from the deeper waters, off the back of the boat, but my wife was casting next to the grass line and catching monsters. It was like nothing I've ever seen. Between the three of us, we caught around 14 fish and we were only out for an hour. With all the action, there was never a dull moment.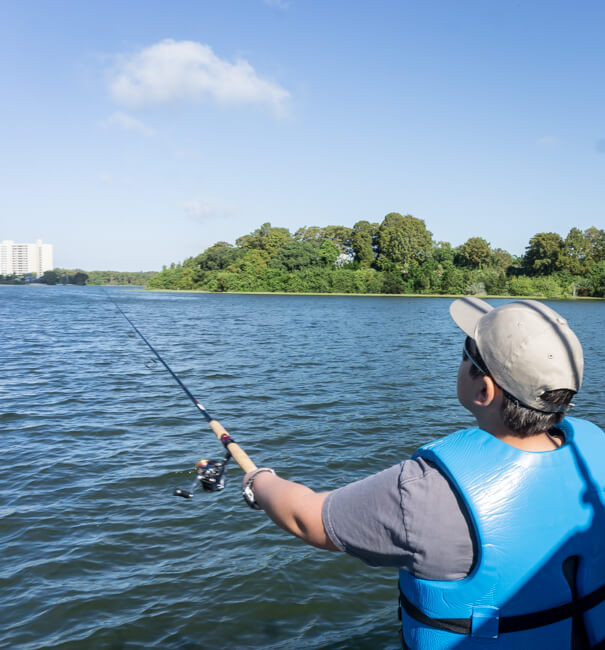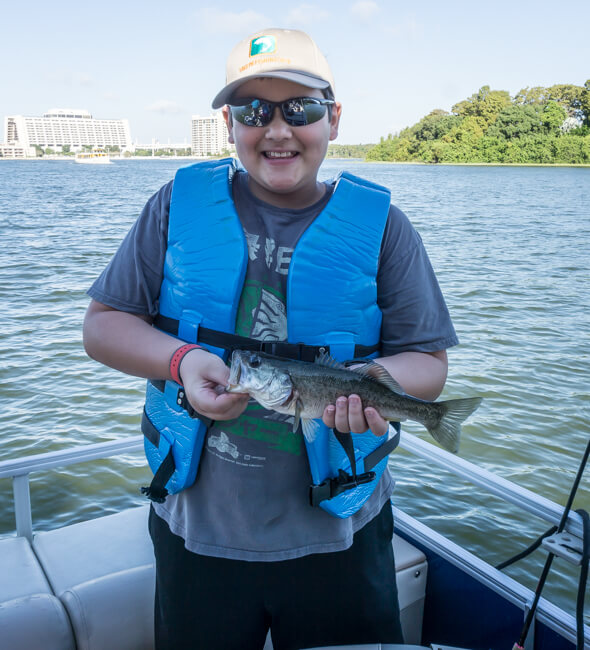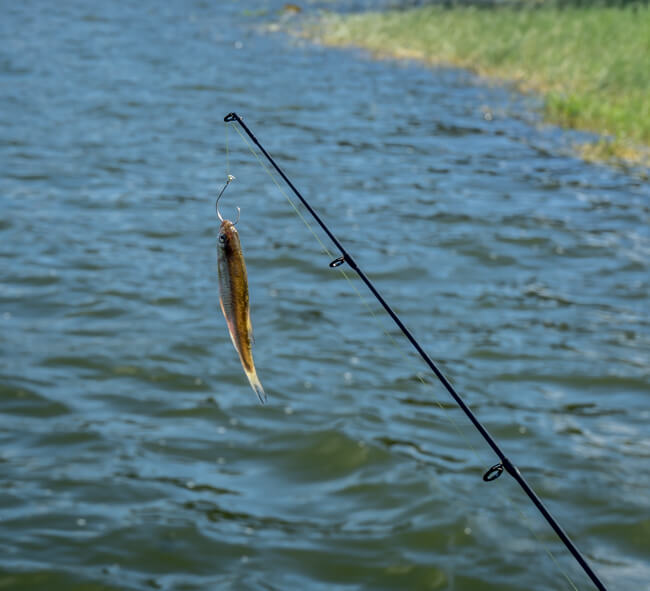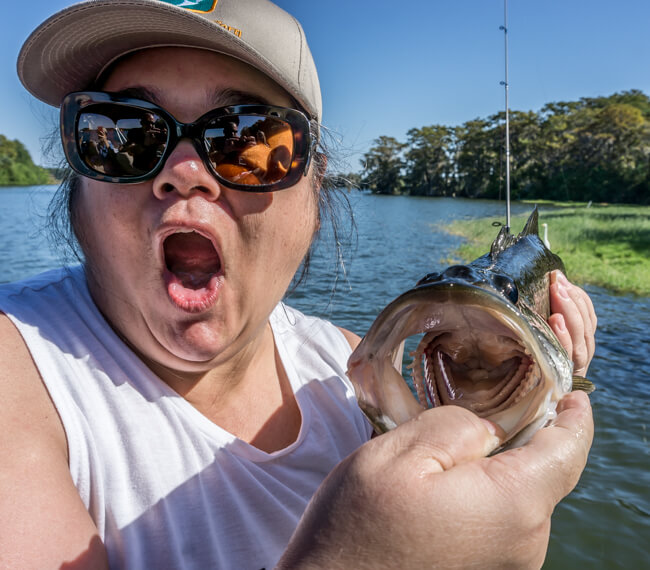 Our SeaRaycer adventure took us from the marina to the waters across from Magic Kingdom. From there, you can catch a glimpse of Cinderella's Castle in the distance. These small, two seated boats may not be all that fast but they are a lot of fun. Guests 12-15 years old can drive (as long as they have a passenger 16 or older) which makes them perfect for kids. Sea Raycers are small, maneuverable and lots of fun. For adults looking for something slightly faster, I recommend renting a pontoon boat.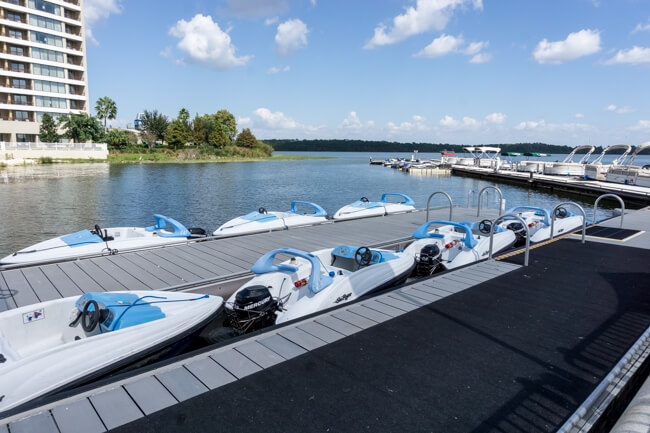 When you're on Disney's waterways, water patrol is always close by. If you ever have a problem, just put your hands in the air and wave em like you just don't care. They will be there with the quickness. Disney's water patrol does an excellent job keeping everyone safe and following the rules. I've rented a pontoon boat before and now a sea racer and was impressed both times with how responsive and proactive they are. Nothing gets by them. They are like water safety ninjas.
To say fishing and boating at Walt Disney World is fun, would be an understatement. Fishing excursions are offered every day and reservations are available year-round. You can book 180 days in advance by calling 407-WDW-BASS. It doesn't matter what your skill or experience level is. If you don't know what you are doing, their experts will teach you. Both pontoon and bass boats are available and fully equipped with everything you need. You don't have to bring a thing. If getting out on the water doesn't float your boat, dockside fishing opportunities are also available.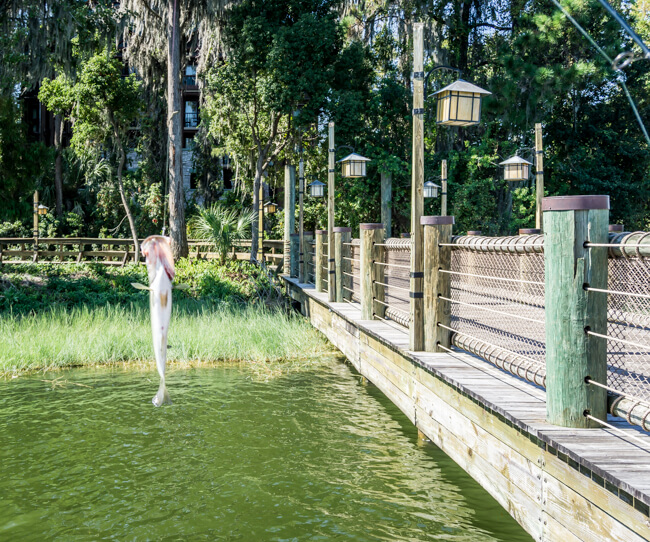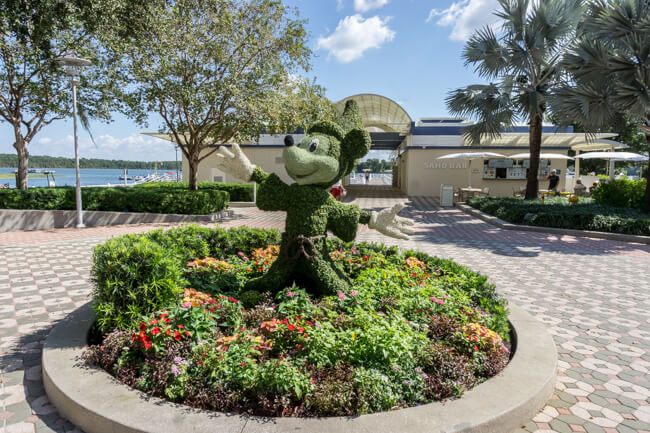 If the thought of fishing doesn't reel you in, Disney has an entire fleet of personal watercraft available for rent. Pontoon boats and Sea Raycers are just a few of the options. Disney's lakes, lagoons, and canals are breathtakingly beautiful and fun to explore. If you are looking for a truly memorable experience, spend some time on the water at Walt Disney World!
After checking in to Disney's Contemporary resort, we met in one of the conference rooms for a quick presentation. RBFF is a nonprofit organization whose mission is to increase participation in recreational angling and boating and in doing so protect and restore the nations aquatic natural resources. They created the Take me Fishing™ and Vamos A Pescar™ campaigns to create awareness of boating, fishing, and conservation.