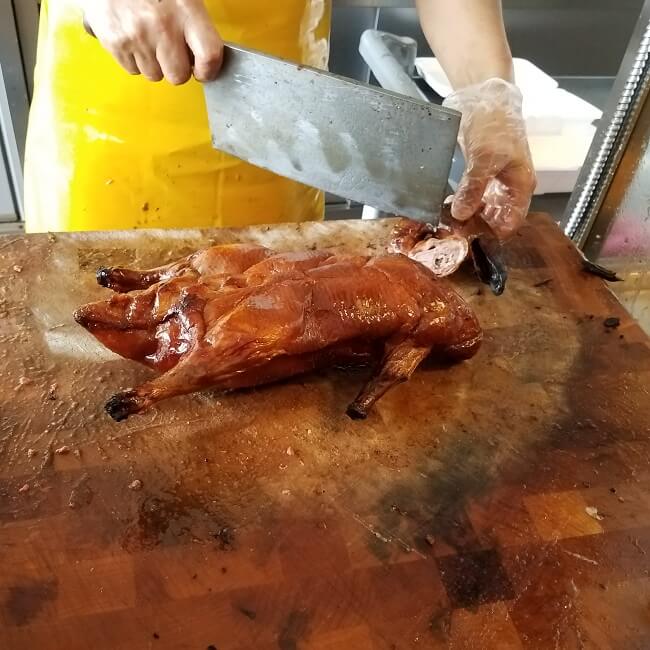 When it comes to chopping up ducks, nobody does it quite like the guys at our local Asian market. They really have it down to a science. It takes them less than two minutes to chop and box an entire duck. It's truly a sight to behold, especially if you enjoy roast duck as much as I do.
The first time I ever tried roast duck was on a blogger trip to NYC. I was walking around Chinatown and caught a whiff of something that smelled delicious and followed the aroma to a bunch of Peking ducks hanging from hooks behind a storefront window. After placing my order and taking a seat, I sunk my teeth into what instantly became one of my favorite meals ever. Roast duck with garlic rice is now something I crave on a regular basis. It's like my new soul food.
If you've have never tried duck, you should seriously do something about that. Duck is all dark meat, so it tastes nothing like chicken or turkey. It's oils and fats give it a rich unique flavor and texture you won't find in any other creature. If you like steak and enjoy eating dark cuts of chicken you'll love duck, the flavor is somewhere in between.
To chop a duck like a pro the first thing you should do is watch a pro chop a duck. Seeing it done is a helpful first step in developing the skill that will impress your friends and family. The video here was taken this weekend while we were out in Orlando picking up some groceries at our favorite Oriental market, New Golden Sparkling Asian Market. Since moving here from Georgia, it took a long time to find supermarkets that compare to those on Buford Highway in Atlanta.
New Golden Sparkling Asian Market isn't the biggest Asian supermarket I've ever been to but it is definitely among cleanest. They have an impressive selection of produce, seafood, and cuts of meat you won't find in most grocery stores. Above all the food quality is amazing. Over the past few weeks I've been shopping there I've enjoyed sushi grade tuna and salmon along with a variety of clams, shrimp, and fresh fish. The seafood selection is amazing and surpasses every store I've visited in the Orlando area.
Just past the checkout registers is a little food stand where they hang freshly roasted ducks and prepare them upon request. The food is so good there is always a line but it moves quickly so be patient. When it's your turn you'll be out the door in no time at all, even if you order an entire duck!