If you don't know where you are going you could end up somewhere great. At least that's what happened last weekend when my wife and I were on a much deserved date night. While boldly going to a theatre we've never gone to before to watch the new Star Trek movie in IMAX 3D, we found a really good restaurant. Neither of us really knew what we wanted to eat that evening so we decided to head in the general direction of the theatre until we found something appealing. After searching through Google results for just about every nationality of food we decided on a restaurant that seemed to be a Japanese-Korean fusion. Intrigued by the idea of ordering Korean barbecue and sushi in the same restaurant, we decided on Izziban Sushi in Orlando.
When we arrived, we were taken back quickly and immediately seated. For a Friday evening, traffic in the restaurant was surprisingly light and there was no wait. As the hostess handed off the menu and the glimmer of all you can eat Yakiniku titillated my peripherals I had to lean in for a closer view. After looking at the meat selection, I knew for sure I was in the right place.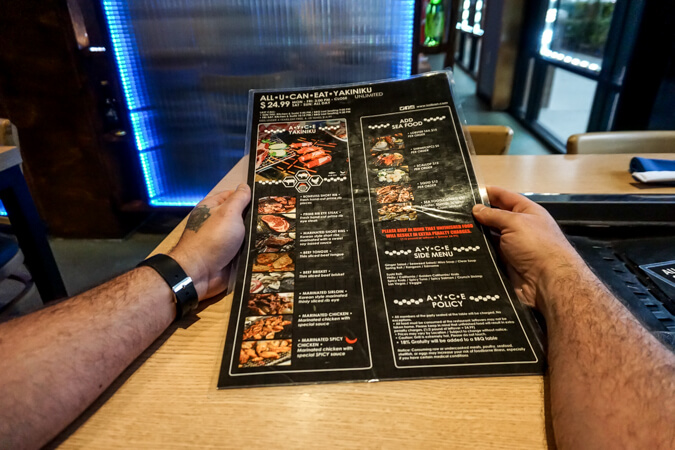 I happen to have a deep love for barbequed meats and to be able to eat as much as I wanted, was like a dream come true. I was hungry, wanted to try everything, and planned on testing the limits of their all you can eat policy. When our server informed me I would be charged extra for any leftovers over a half pound, I decided to take a more conservative approach and stick with the first five items on the menu.
I ordered the Beef Brisket, Beef Tongue, Prime Ribeye Steak, Prime Short Ribs, and Marinated short ribs. After bringing our drinks and taking our order, our server began to bring out the sides.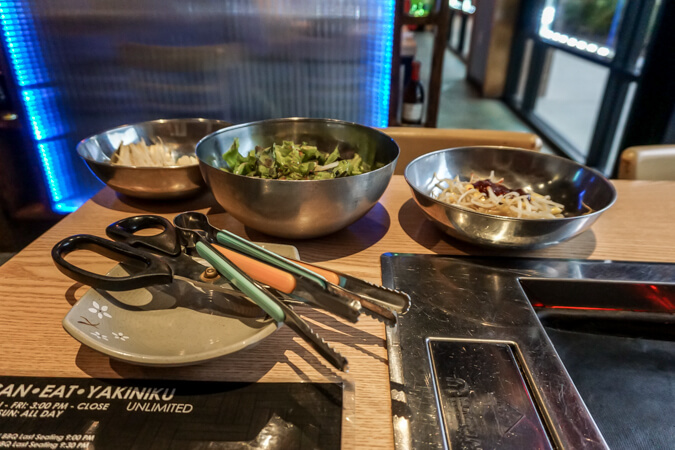 The side dishes, or Banchan at Korean restaurants, are one of our favorite parts of the meal.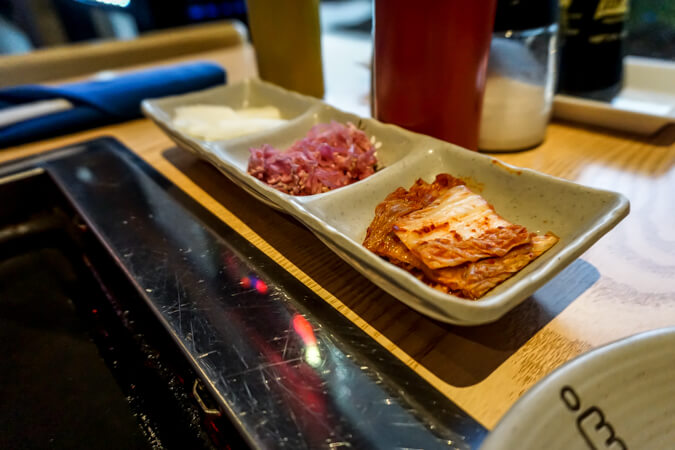 Kimchi cabbage and daikon, spicy anchovies, pickled vegetables, potato salad, and fish cakes are the most common Banchan we find at Korean restaurants. It's always fun to taste each establishment's take on the traditional side dishes and we are always excited when we are introduced to new things. Although their kimchi cabbage, bean sprouts, salad, and daikon are spectacular, Izziban is a bit lacking in the Banchan department. They don't offer much in the way of traditional sides but it's all you can eat, so I can accept the tradeoff.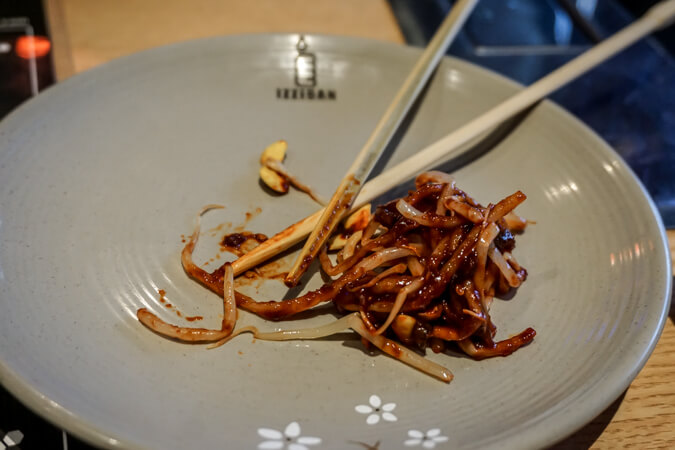 When our massive order of meat rounded the corner, happiness filled my body.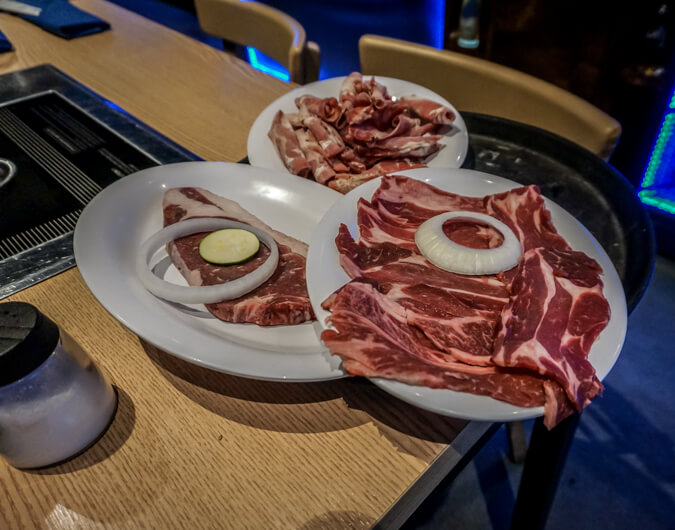 Surveying my selection, I was glad to be alive.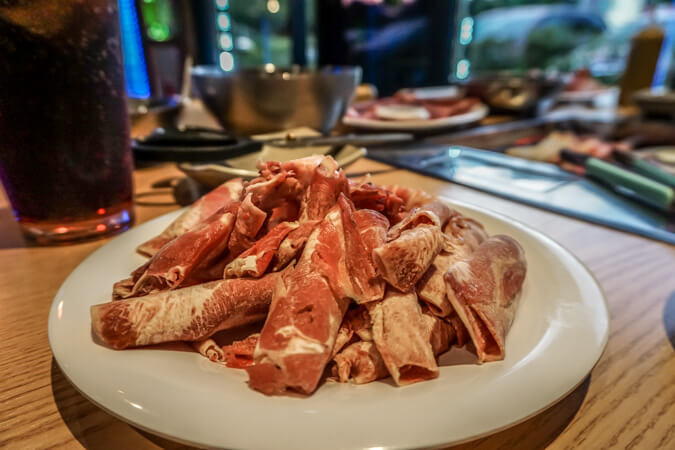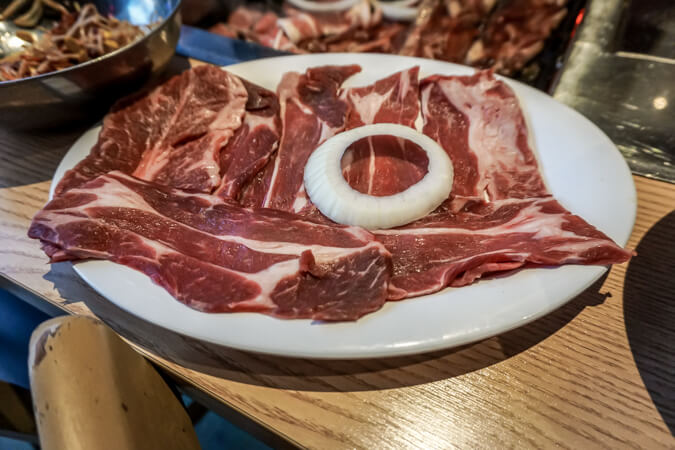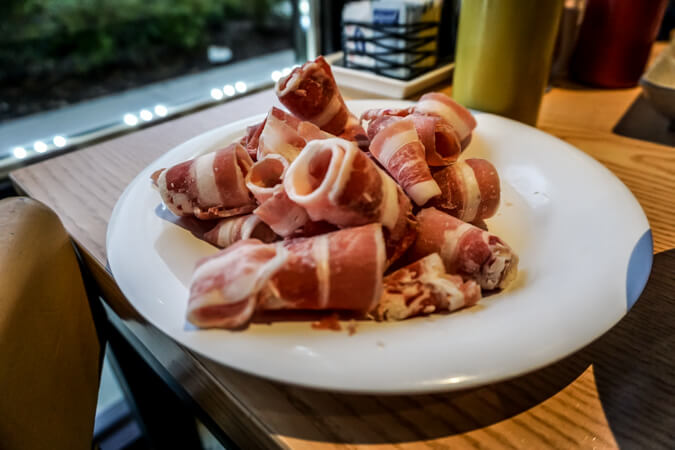 I haven't had the pleasure of consuming this much flesh in a while.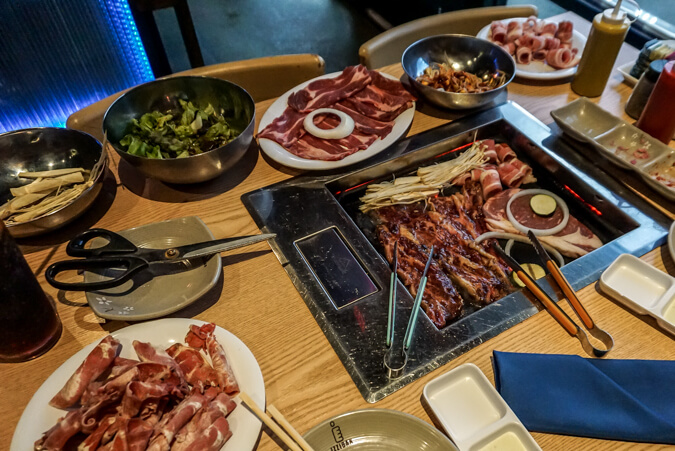 We began cooking immediately and as our meat sizzled, I was glad I decided to limit my order. There's no way I would have had time to eat any more. I would have missed my movie for sure.
Although I enjoyed the freshness and overall quality of the cuts, some of the meats were rather bland. Several items were not seasoned at all. To perk my palate, I alternated between the salt tray and spicy Sriracha sauce. A little dab here and there kept things interesting.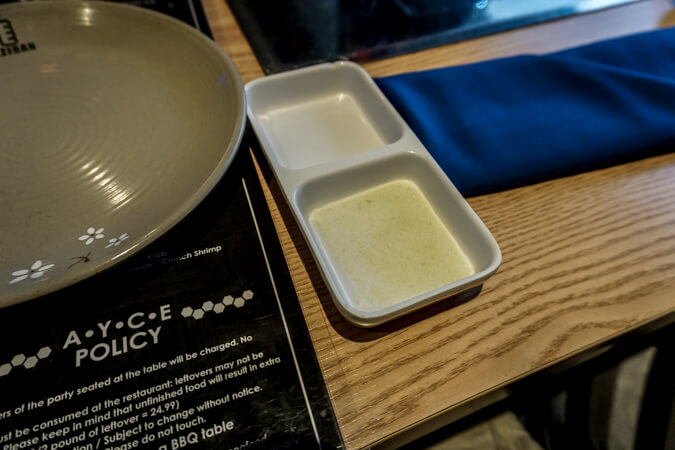 The menu is loaded with options and the restaurant has a relaxing ambiance. The glowing blue lights are a soothing touch and the décor has a modern, upscale appeal. My experience only scratches the surface of what Izziban has to offer. The restaurant has a full sushi menu along with a variety of other options. Whether you are looking for a date night destination or a place to drown yourself in meat look no further. All you can eat meat for $24.99 is really hard to beat.