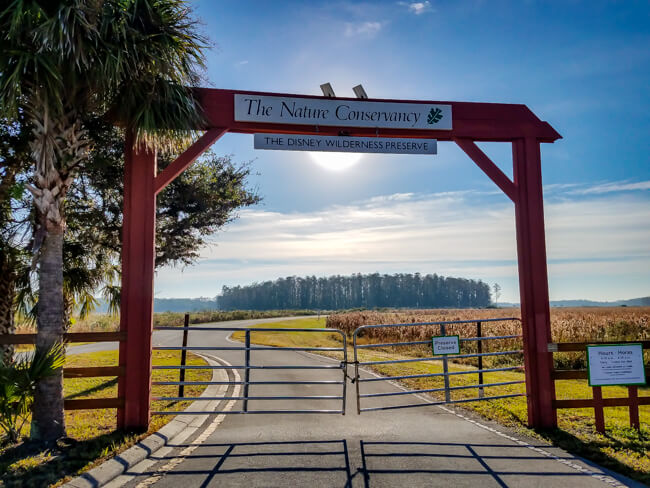 There are many places to hike and connect with nature in Florida but there is no place quite like Disney Wilderness Preserve.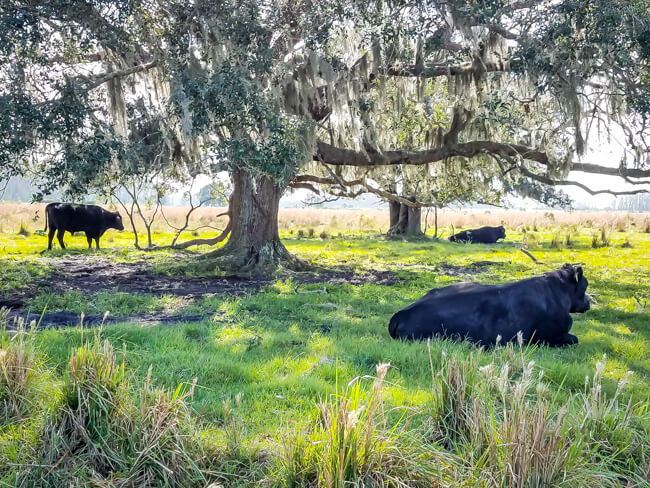 Situated at the headwaters of the Everglades this 12,000 acre stretch of wilderness is home to 1,000's of animal species and connects with one of Central Florida's last undeveloped lakefronts. Guests can sit and enjoy nature from the comfort of a rocking chair, have a picnic lunch, or venture out on one of 3 very well marked trails that are appropriate for all skill levels.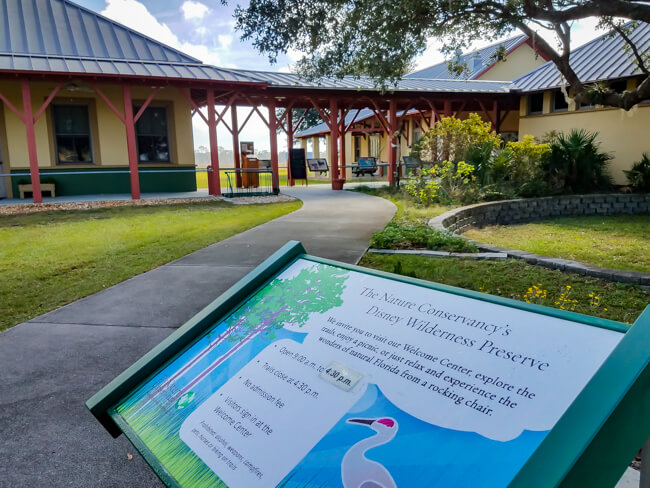 The learning lab in the welcome center is loaded with educational materials designed to teach visitors about the local ecosystem. From insect specimen collections to animal bones and skins visitors can view, identify, and maybe even learn a thing or two about Florida's wildlife. Afterwards, you can grab a pair of binoculars, head outside, and get a closer look at nature. When you're finished, bring them back and record the wildlife you spotted in the log book if you want.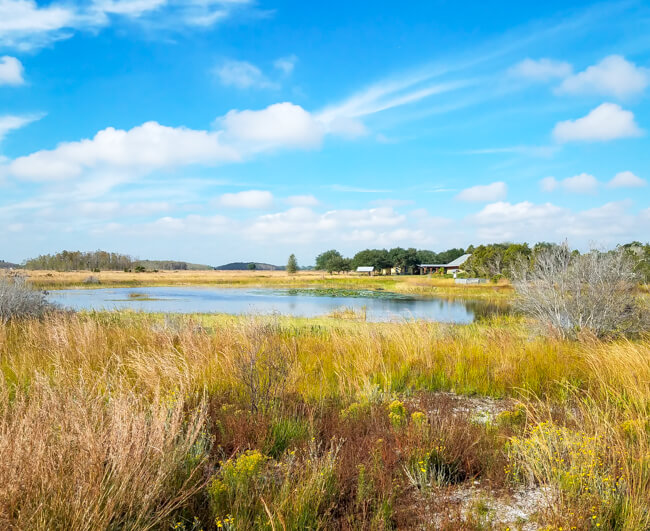 Disney Wilderness preserve offers 3 hiking trails. The white "Harden Trail" is a short .5 mile trek around a small pond. The red "Wilderness trail" is a 2.5-mile journey that brushes the bank of Lake Russell. The Yellow trail meanders through an additional 3.5 miles of trees and underbrush. The red and yellow trials combined are an easy 6-mile hike through varying terrain. It takes 3 hours or so to hike both.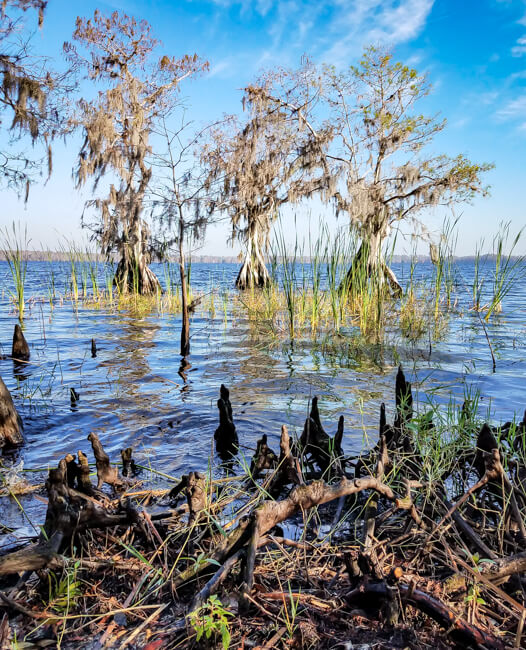 When you get to lake Russell take a seat at one of several picnic tables and enjoy the view. The way the sun reflects off the water and between the roots of the trees and reeds along the bank is spectacular. Combine the sights with the sounds of rushing water and birds chirping and you have a massage for the soul. Lake Russell is a peaceful area to sit, relax, enjoy the shade, and connect with Florida's ecosystem. It's one area you really don't want to miss.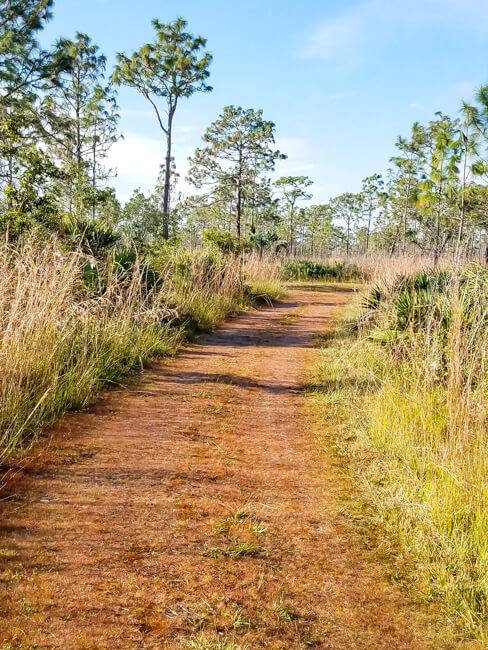 Florida is home to thousands of birds and many different species of wildlife. If you're lucky you'll spot a few animals on your hike. Keep your eyes peeled and your camera ready and you just may capture that perfect shot. Each trail is well marked and well-manicured. All you've got to do to stay on track is follow the signs to continue. Signage here is great.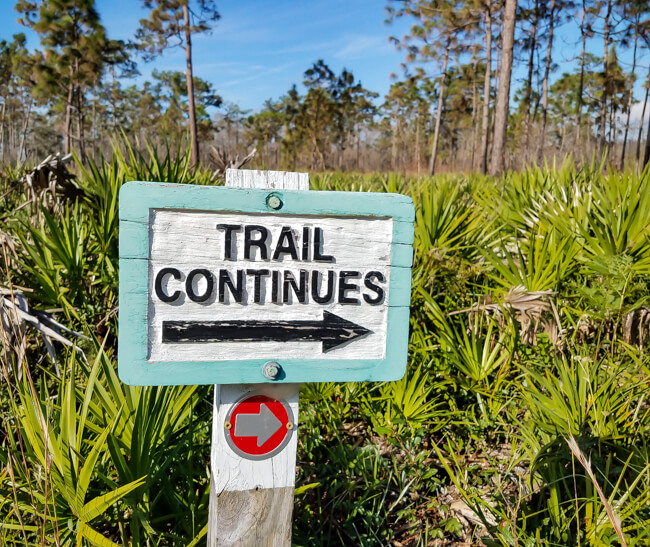 Trail maps are offered in the welcome center as well as educational brochures and maps for nearby trails. The gates open at 9:00am and the park closes at 4:30pm so plan accordingly. Don't start the yellow trail after 2:00pm. If you're looking for a great place to hike, learn, relax, and immerse yourself in nature, Disney Wilderness Preserve is the place to go.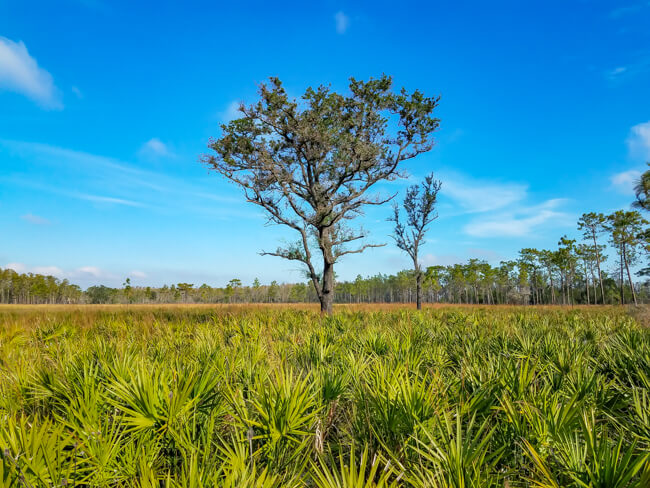 Could you use a hike?