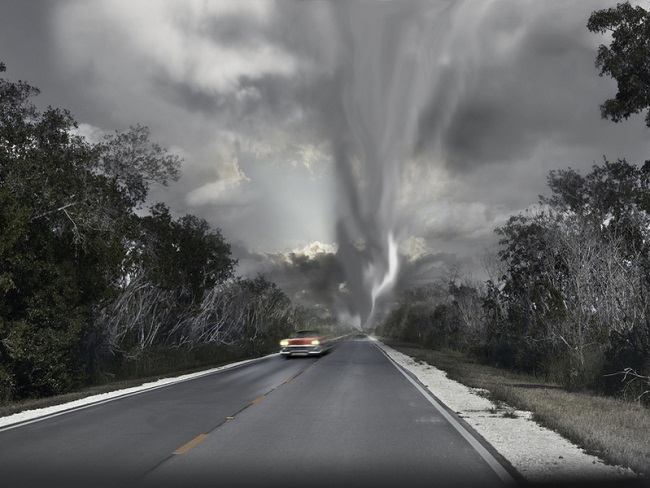 Tornadoes really blow. I'm not just talking about wind speed either. Every year tornadoes are responsible for killing over 200 people and cause more than a billion dollars' worth of damage in the US alone. They have been recorded on virtually every continent and can strike quickly, with little to no warning. Don't wait until you're face to face with a swirling vortex of doom to take action. By then it may be too late. Follow these tips and you just might keep yourself and your loved ones safe in the event of a tornado.
Always be alert to changing weather conditions. When severe storms are forecasted, keep a look out for weather watches and warnings. Most tornadoes develop from thunderstorms so when bad weather rolls in, pay attention. A tornado watch is issued when conditions are favorable for tornadoes to form and a warning is issued when a tornado is sighted. When your area is under a tornado watch get ready to take action. When your area is under a warning take action immediately!
Make sure you and your family know where to go. At home pick a safe room that is low to the ground and has no windows. This can be an interior room on the lowest floor or a basement. Keep everyone together and make sure everyone knows how to hunker down and protect vital areas from flying debris.
If your home is unsafe, make sure everyone knows how to get the nearest public tornado shelter. You find them easily by searching online or by consulting public safety organizations in your area like the police or fire department. Once you've located a shelter, you need to know how long it takes to get there. You don't want to get caught out on the road in a tornado so make sure you have time.
If you can't make it to a shelter get to the nearest sturdy building. If you don't have time to go anywhere or you are caught outside, get to the lowest possible elevation and lay face down. If you get caught in your car make sure you are buckled up and cover your face with your hands.
Keep a first aid kit readily accessible. Inspect your kit regularly and discard expired contents.
Tornadoes can be deadly but there's a lot you can do to prevent yourself and your family from getting hurt. With a little education and preparation, you can reduce the chances of being seriously injured or killed. Pay attention to the weather and know what to before it's too late to act. The more prepared you are the better off you'll be.