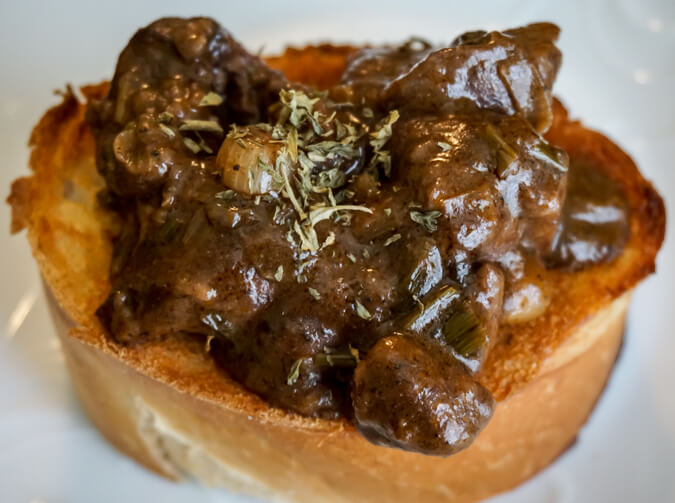 Deviled kidneys are a British dish traditionally prepared with lamb. After finding beef kidneys on sale at my local supermarket, I decided to add my own twist to this devilish delight. Deviled beef kidneys take about an hour to make including prep time and can be served for breakfast, lunch, or dinner. Prepping the kidney is a bit tedious but worth it. This recipe serves approximately four people. As with most organ meats, the main ingredient is relatively inexpensive compared to other meats and packed with a distinctively delicious flavor. If tender meat with a hint of liver sounds appealing, you will love deviled beef kidneys.
Ingredients:
1 beef kidney
2 tbsp flour
2 tbsp of butter
4 scallions
Half teaspoon dry mustard
Pinch of cayenne
2 tbsp tomato paste
2 tbsp Worchester sauce
2 tbsp cabernet sauvignon
French bread
Dried parsley
Sea salt and pepper
8 oz. water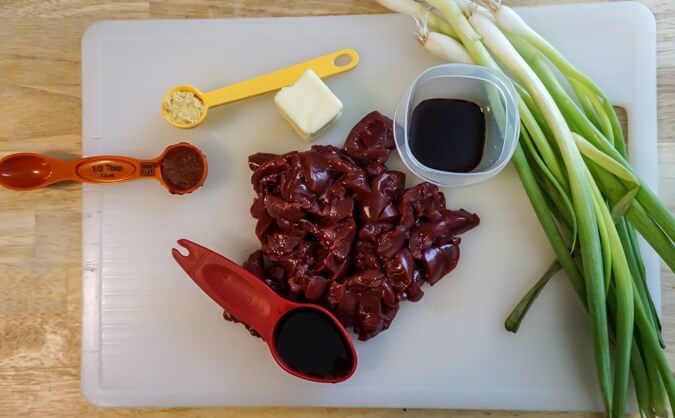 After removing the kidney from the package, give it a rinse and then pat it dry. After drying, place the kidney on a cutting board and get a sharp knife to remove the white part. It takes a little bit of time and effort but you want to remove as many of the white tendrils as possible. After removal, discard the white parts, cut the meat into chunks and set it aside.
Next grab a bowl with flour seasoned with salt, pepper, and cayenne and toss your kidney chunks until coated well.
After melting butter in a large pan add the scallion and fry until golden brown.
Take the bowl of coated kidneys and pour the entire contents into the pan with the butter and scallions.
Next add the tomato paste, mustard powder, cabernet sauvignon, Worchester sauce and 8 oz of water. Stir constantly and bring to a boil.
After being brought to a boil, reduce the heat and simmer until the kidneys are tender and the sauce thickens. You shouldn't need to simmer any more than 20 minutes.
Finally, grab your French bread, cut it into thick slices, toast it, and add butter. With a large spoon generously pour the kidneys and sauce all over the bread and sprinkle a little parsley on top. Serve and enjoy.